My idea for this project was the South Korean ferry sinking. What struck me the most is that over 300 students died and the captain and crew members survived!
So I wanted to portray the part of the obedient high school students who listened to the crew and stayed on board rather than trying to escape and be rescued.
The students I made as sheep that were innocently following orders, and the captain and the crew to be wolves that only looked after themselves and risked the lives of others for personal gain.
I used two sources for information ----
"Seoul, South Korea (CNN)
-- The South Korean ferry disaster that killed more than 260 people last month was caused in part by excessive cargo and a failure to tie that cargo down properly, the joint police and prosecuting team investigating the disaster said Tuesday.
It marked the first time South Korean investigators said what they believe led to the April 16 sinking of the ferry Sewol, which was carrying 467 passengers and crew -- i
ncluding more than 300 high school students on a field trip -- when it capsized.
Investigators said they've indicted four employees of the ferry's owner, Cheonghaejin Marine Co., in the last two weeks, including a senior executive Tuesday. Details about the charges weren't immediately available.
Authorities took aim at the cargo Tuesday,
saying its weight was more than double the ship's limit.
The cargo wasn't tied properly -- and the loosely tied goods helped cause the ship to capsize, senior prosecutor Yang Joong-jin said."
Kim, Stella, Jason Hanna, Journalist Stella Kim Reported from Seoul; Jason Hanna, and Ed Payne Wrote in Atlanta. "Ferry Disaster: Too Much Cargo Contributed to Sinking, Police Say." CNN. Cable News Network, 01 Jan. 1970. Web. 06 May 2014.
Jindo, South Korea (CNN)
-- Passengers aboard a
sinking South Korean ferry
faced a terrifying choice as the vessel rolled: obey commands barked over loudspeakers to stay in place, or don life vests and jump into the chilly ocean water.
"Don't move," a voice warned, according to a recording obtained by CNN affiliate YTN. "If you move, it's dangerous. Don't move."
That announcement, some witnesses worried, may have cost some passengers on the ferry Sewol their lives.
"Kids were forced to stay put," one survivor told CNN affiliate YTN, "so only some of those who moved survived."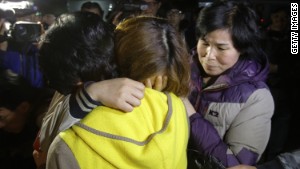 Families of missing ferry students wait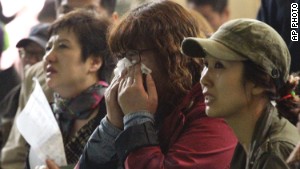 Students texted parents as ferry sank
As rescuers searched the frigid water for nearly 300 people who remained unaccounted for, witnesses told horrific stories of their final minutes on the sinking ship.
"We were told to stay where you are, so we kept staying,"
survivor Hyun Hung Chang told YTN. "But later on, the water level came up. So we were beside ourselves. Kids were screaming out of terror, shouting for help."
At least some of those who jumped or made their way to the top of the ship were rescued. Helicopter crews plucked some from the deck.
Others were pulled from the water by rescuers aboard the multitude of fishing boats and military vessels that raced to the scene as the ship rolled over and capsized.
"I had to swim a bit to get to the boat to be rescued," Lim Hyung Min, one of more than 300 Seoul high school students who was aboard the ship for a four-day field trip, told CNN affiliate YTN.
"The water was so cold and I wanted to live."
Hancocks, Paula, Catherine E. Shoichet, Michael Pearson Wrote, Reported from Atlanta; Paula Hancocks Reported from Jindo, South Korea; Translators Hyoun Joo Song, Elena Kim, KJ Kwon, Holly Yan, Jessica King, Karen Smith, Josh Levs, Euan McKirdy, Stella Kim, Frances Cha, Madison Park, and Judy Kwon Also. "South Korean Shipwreck Survivors: Passengers Told 'don't Move' as Ship Sank." CNN. Cable News Network, 01 Jan. 1970. Web. 06 May 2014.